Blue Grass Community Foundation and Smiley Pete's GoodGiving Challenge is excited to partner with YOU to make a lasting impact on Central and Applachia Kentucky!
The GoodGiving Challenge is a powerful, 5 week online giving celebration that connects Central and Appalachia Kentucky with the causes they care about. We invite you to join us, because when you give where you live, you make a more vibrant, sustainable, equitable community for all. The communities we love rely on a nonprofit infrastructure and by giving right here during The GoodGiving Challenge, you know you are doing something to make this the best place to live, work and play.
The GoodGiving Challenge is a fun, easy and powerful way for you to make a difference right here in Central and Appalachia Kentucky! Blue Grass Community Foundation and Smiley Pete Publishing know how important it is to give where you live. Give now through December 31, 2017.
Giving is Sweet
Since 2011, the Challenge has raised over $7.1 million for outstanding local charities. In 2016, you helped us support great organizations by raising $1.6 million!
Get the Buzz
In addition to receiving your donations, nonprofits have the opportunity to win endowment prizes made possible by Blue Grass Community Foundation and supportive donors. Endowments are key in making sure the stellar nonprofits serving our community will be here tomorrow and for generations to come!
Bee a Giver
Get to know all the great nonprofits in the Challenge right here, right now. Be a giver. Great things happen in a giving community and YOU can be a part of it!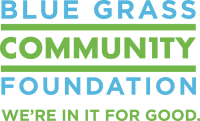 Thanks to Our Sponsors!
Partner
Silver Sponsors
Bronze Sponsors

Friends of Clark County
Craig and Madonna Turner Charitable Fund
Sponsors
BGCF Greens for Good Golf Tournament
The Mason Companies
Lexington Clinic
Blue and Co.
Good Foods Co-op
Kendra Scott
Burcham Solutions Group, LLC
Whiskey Bear
The Barn at Fritz Farm